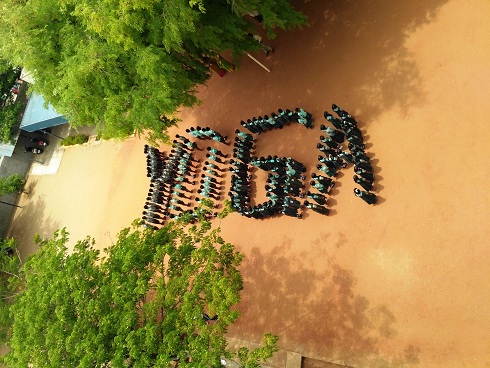 By doing yoga, pupils are physically, mentally and spiritually trained to be disciplined and enriched in their health, culminating in peace of mind, body and soul.
The school provides karate training for pupils to be bold in the society and have a unique character of extensive confidence.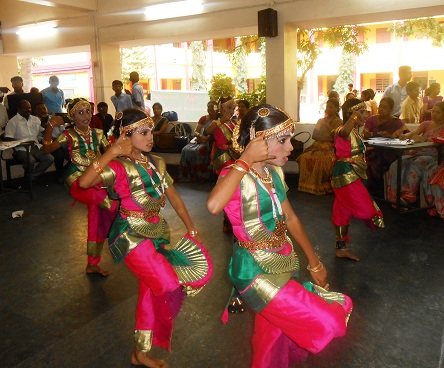 To encourage the talent of the girls, classical dance ( Bharathanatyam ) has been arranged after school hours. Pupils show their performances during functions and programmes.
"To keep the body in good health is our duty….otherwise we shall not be able to keep our mind strong and clear."  – Buddha
The school has good sports facilities which include indoor and outdoor games. Pupils are encouraged to practise athletics, football, kho-kho and indoor games such as chess, carrom, ludo, chinese chekkers, trade game,etc.,
Pupils of Stds I to V are divided into 4 Houses – Pink, Green, Yellow and Blue, so that they can develop competitive and team spirit, confidence, adherence to rules and regulations governing the sports and games. The main aim of this sorting is to create an equal healthy competition in them.
Mass Drill is conducted during the last session of every Monday for Stds III to V. Simple exercises and exercises using dumbbells are taught at that time.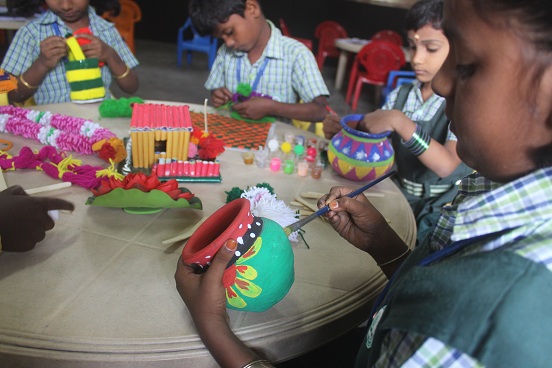 Arts & Craft are conducted once in a month to foster creativity,sensitive skill, enhancement of pupils' interest and to exploit their artistic potential.
Pupils who are interested in public service are identified and recognised as "Kutty Cops". They are given proper uniform and road safety kit and are trained to patrol road usage. They help to ensure safe passage of pupils to and from the school in the mornings and evenings.
Pupils are given an opportunity to showcase and hone their talents and prepare themselves to improve their leadership and social skills in the school.Club Activities are conducted once in a month and pupils are encouraged to choose their interested subjects:
| | | |
| --- | --- | --- |
| Bharathiyar Club | – | Tamil Club |
| Shakespeare Club | – | English Club |
| Ramanujam Club | – | Mathematics Club |
| Abdul Kalam Club | – | Science Club |
| Tiny –Tots | – | Culture Club |
| Moovendhar Club | – | Social Science Club |
| Green Campus | – | Eco (Ecology) Club |
Bharathiyar Club – Tamil Club
To encourage and motivate pupils in the active learning process of Tamil Language aiming to create and kindle their interest towards literature.
Shakespeare Club – English Club
To inculcate a flair for English language among pupils and to enhance their literacy level.
To create love and interest towards learning English.
Ramanujam Club– Mathematics Club
To promote enthusiasm and interest in learning Mathematical concepts among the pupils.
Sudoku column in THE HINDU and puzzles in Fridays' SIRUVAR MALAR of Thinamalar are used to stimulate their mathematical curiosity and to develop conceptual thinking among them.
Abdul Kalam Club – Science Club
To develop interest in scientific hobbies of the pupils.
To keep the pupils in touch with the recent advances in science.
To encourage the pupils to develop their creative ideas.
To provide a learning experience to the pupils about all the fine arts such as singing, elocution, role play, choreography, painting, etc.,
Moovendhar Club-Social Club
To provide knowledge on the historical events, weather forecast, general knowledge, current affairs, etc., which will later help them to face competitive examinations confidently.
Pupils are encouraged to form a kitchen garden to get various fresh vegetables like ladies finger, greens, broad beans, tomato, etc., for a healthy, hygienic, and nutritious food for a balanced diet and unpolluted air.